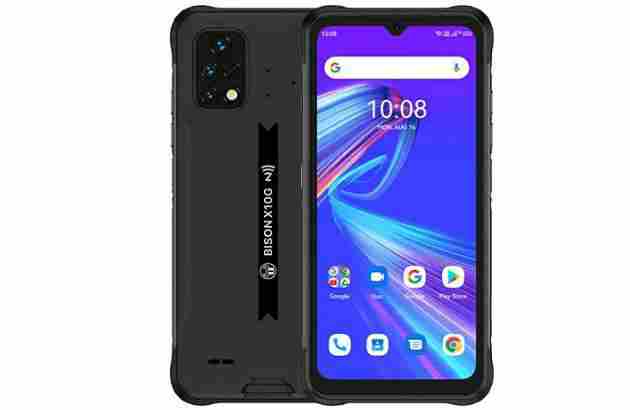 The Umidigi Bison X10G NFC is similar to the Bison X10G, but with NFC support, a fingerprint reader, and twice the built-in storage.
Except for the distinctive finish, it is identical to the Bison X10S NFC. The Umidigi Bison X10G NFC is finished in Hack Black leather, whereas the X10S NFC is finished in Storm Grey AG Matte Fiberglass.
Umidigi Bison X10G NFC Designs and Display
The IP68, IP69K, and MIL-STD-810G approved Umidigi Bison X10G NFC has an industrial rubber finish that is both watertight and airtight.
Because the Android phone has a built-in FM antenna, you don't need to connect an earphone to the headphone jack to listen to FM radio, which is very handy. A 3.5mm headphone connection, a USB Type-C port, and Bluetooth 5.0 are also included. It has 4G LTE, dual 4G VoLTE, and dual Wi-Fi.
It is military-grade and can withstand impacts of up to 1.8 meters as well as 30 minutes in water up to 1.5 meters deep.
The 6.53-inch monitor on the Umidigi Bison X10G NFC has a resolution of 720 x 1600 pixels. The screen is adequate for viewing movies and surfing the web.
The fingerprint sensor is located on the left edge of the smartphone. This Umidigi Bison phone includes the two customizable buttons found on other X10 versions. One of the buttons can be used for underwater photography while the other can be used for the Push to Talk function.
The customizable buttons can also be programmed so that single clicks, double clicks, or long presses of the button initiate specific actions such as accessing an app or performing a function such as taking a screenshot.
Umidigi Bison X10G NFC Camera and Resolution
The Umidigi Bison X10G NFC has a 16MP main sensor with an aperture of f/2.2 and a 6-element lens, a 5MP macro camera, and an 8MP ultrawide camera with a 119° field of view.
You also get an AI enhanced 8 megapixels camera with f/2.2 aperture and 5-element lens for capturing selfies and for Face Unlock.
Umidigi Bison X10G NFC Software, Memory and Battery
The Unisoc T310 (12nm) Quad-core processor powers the Umidigi Bison X10G NFC, which runs Android 11. This is the same processor found in all Bison X10S / G series models, as well as the Umidigi A11s, A13s, and Power 5S.
The chipset is based on a dual-cluster architecture with a 2.0GHz Cortex-A75 processor and a 1.8GHz tri-core Cortex-A55 processor. This is a less expensive processor than the T610 found in the Power 7 Max.
This Umidigi phone has 4GB of Memory and 64GB of internal storage. You can upgrade the built-in storage via a hybrid microSD slot with support for up to 256GB of extra storage via a memory card.
However, you'd have to give up one SIM card space because one of the SIM slots also functions as a microSD slot. The integrated 6150 mAh battery should provide adequate battery efficiency.
Umidigi Bison X10G NFC Price In Nigeria
The Umidigi Bison X10G NFC costs around $139.99 at major online retailers such as Alibaba. In Nigeria, the Bison X10G NFC costs around 68,900 Naira, 690 GHS in Ghana, and 14,500 KSH in Kenya.
The smartphone is now available for buy on major retail sites such as AliExpress and Jumia. It was released in December of 2021.