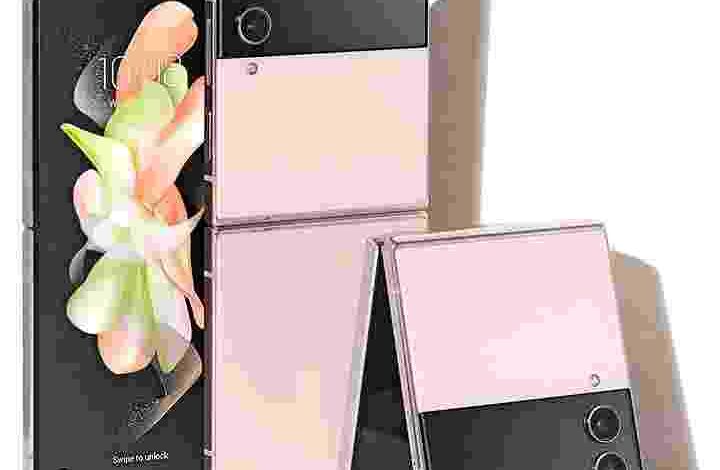 The Galaxy Z Flip 3 was replaced by the Samsung Galaxy Z Flip 4 5G. Compared to the Flip3, this design is not drastically different, but it does offer a few improvements that make it superior.
Alongside Samsung's other foldable smartphone, the Galaxy Z Fold 4, the Galaxy Z Flip 4 was introduced. It has a 6.7-inch foldable display, a 1.9-inch cover display, a 12MP dual rear camera, an 8MP front camera, and a larger 3700 mAh battery.
The Samsung Galaxy Z Flip 4 appears to be fairly identical to its predecessor from the outside. However, if you look more closely, you will see certain improvements. The 6.7-inch foldable display is still there, but the bezels have shrunk for a more upscale appearance.
Samsung Galaxy Z Flip 4 offers IPX8 rating for water resistance. It can survive for up to 30 minutes in up to 1.5 meters of fresh water.
The Samsung Galaxy Z Flip 4 has an IPX8 water resistance rating. It can endure in fresh water up to 1.5 meters deep for up to 30 minutes.
The smartphone is durable because to the Corning Gorilla Glass Victus+ and the sturdy aluminum frame and hinge.
Similar adaptive refresh rate to the Samsung Galaxy S22 Ultra, the 6.7-inch Foldable Dynamic AMOLED 2X display's 1080 x 2640 pixel resolution offers a refresh rate that may range from as low as 1Hz to as high as 120Hz based on your current view.
By employing roughly the correct refresh rate needed for the best viewing experience, the adaptive refresh rate offers enhanced battery performance. Additionally, you get up to 1200 nits of brightness and HDR10+ for an excellent viewing experience.
Transparent material covers the front of the Samsung phone to allow for folding. Additionally, you receive armored aluminum frames with Corning Gorilla Glass Victus+ on the rear. The same durable aluminum is used to cover the hinge.
Several hues, including Bora Purple, Graphite, Pink Gold, Blue, Yellow, White, Navy, Khaki, and Red are offered for the smartphone.
The 1.9-inch Super AMOLED cover display has two rings for the two rear cameras and is useful for notifications. For improved results, selfies taken with the rear cameras can also be taken using the cover display.
It maintains the Flip3's 260 x 512 pixel resolution. The same Corning Gorilla Glass Victus+ that covers the remainder of the rear covers this area as well.
Software Version
The Samsung Galaxy Z Flip 4 5G has a new chipset compared to its predecessor and other 2022 flagships from Samsung, including the Galaxy S22, Galaxy S22 Plus, and Galaxy S22 Ultra.
The quad-core Cortex-A510, the single-core Cortex-X2, and the tri-core Cortex-A710 of the Qualcomm SM8475 Snapdragon 8+ Gen 1 (4 nm) octa-core chipset each have a clock speed of 3.19 GHz, 2.75 GHz, and 1.8 GHz.
Memory
The high-end Android phone comes with 8GB of RAM and a choice of 128GB, 256GB, or 512GB of internal storage. It lacks a memory card port, just like more modern iPhone models like the iPhone 13 Pro Max and the iPhone X and XR.
Camera
The selfie camera on the Samsung Galaxy Z Flip4 is the same as on the model before it. You receive a wide-angle 10 megapixel camera with 4K super HD filming capabilities.
Similar to the Flip3, the Samsung Galaxy Z Flip 4 5G has a camera configuration. On the back are two 12 megapixel sensors, and the front has a 10 megapixel sensor.
Even though the primary camera is remains 12 megapixels, it has been enhanced to allow more light in for better low light performance.
This lens has an f/1.8 aperture and an 83 field of view. Additionally, the camera features dual-Pixel Phase Detection Autofocus and Optical Image Stabilization (OIS).
A 12MP ultrawide wide-angle lens, identical to the one included with the 2021 Flip, supports the primary camera.
4K video recording is possible. With the smartphone's camera enabling 960 frames per second for 720p HD video recording, slow motion filming is also available.
Connections
There is a USB Type-C Port (USB 2.0) on the Samsung Galaxy Z Flip4 5G for cable connectivity and rapid charging. Although the USB cable is included, the charger is not included with the item. For wireless connectivity, Bluetooth 5.2 with LE and A2DP as well as NFC is offered. There is no 3.5mm audio jack on this gadget.
A 5G connection is supported by the smartphone, enabling incredibly quick downloads, uploads, and streaming. Wi-Fi 6 and dual-band Wi-Fi are also included.
Battery
The battery capacity of this Android phone has increased from 3300 mAh to 3700 mAh. Additionally, it provides a faster 15W to 25W charging capacity. However, as there isn't a charger in the box, you must purchase one separately.
The smartphone has 15W wireless charging and 4.5W reverse wireless charging capabilities. One UI 4.1.1 is included with Android 12 right out of the box.
Price
The starting pricing for the base 8GB/128GB version of the Samsung Galaxy Z Flip 4 5G is approximately about $899.99 from reputable online retailers like Amazon. In Nigeria, the Galaxy Z Flip 4 5G costs roughly 810,000 Naira, 109,499 KES, and 6,000 GHC, respectively.
The Samsung Galaxy Z Flip4 was unveiled on August 10 2022, and sales are anticipated to begin on August 25 2022.