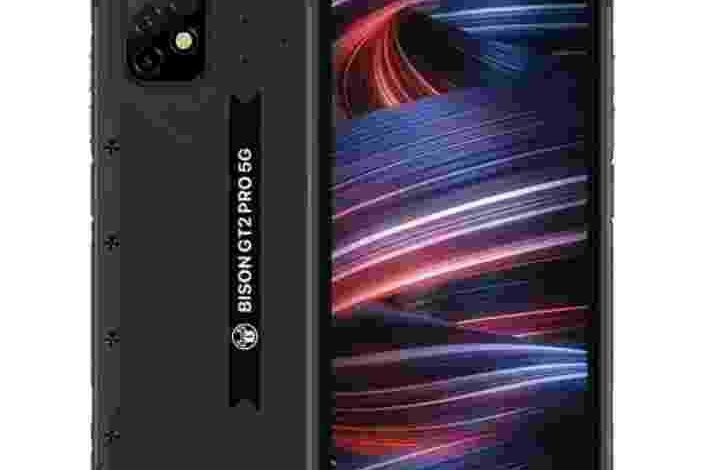 The Umidigi Bison GT2 Pro 5G is identical to the Bison GT2 5G, but it has a distinct body finish and twice as much built-in storage.
The Umidigi Bison GT2 Pro 5G and Bison GT2 5G are the first Umidigi phones to support 5G. They are also the first to provide Wi-Fi 6 connectivity.
The smartphone includes an FM transmitter. You do not need to plug in a headphone to the 3.5mm jack to listen to FM radio, which is more practical. A 3.5mm headphone jack, a USB Type-C port, NFC with Google Pay compatibility, and Bluetooth 5.2 are all included.
It has 4G LTE compatibility with dual 4G VoLTE and dual-Wi-Fi, including Wi-Fi 6. It also has 5G access on both SIM cards.
While the Bison GT2 5G has 128GB built-in storage and a Storm Grey AG Matte FRP finish, the Umidigi Bison GT2 Pro 5G has a Hack Black Industrial Rubber finish and 256GB built-in storage.
Umidigi Bison GT2 Pro 5G Display and Design
The Umidigi Bison GT2 Pro 5G has an industrial rubber finish, reinforced edges, and an airtight and watertight construction. This guarantees that the smartphone can withstand harsh conditions. The finishing material is comparable to the Umidigi Bison X10G, Bison X10G NFC, and Bison GT2 Pro.
It has IP68, IP69K, and MIL-STD-810G classification, allowing it to withstand falls of up to 1.8 meters and 30 minutes in up to 1.5 meters of water.
The Umidigi Bison GT2 Pro 5G has a 6.5-inch display with a resolution of 1080 x 2400 pixels and a 20:9 aspect ratio, which is ideal for viewing movies and browsing the web.
The monitor also has a refresh rate of 90Hz and a touch sampling rate of up to 180Hz, making it ideal for gaming.
It has two programmable keys, one on the left and one on the right. This is in addition to the audio control and power buttons.
The customizable buttons can be given actions, such as accessing an app or phone feature like turning on the flashlight, with a single click, double click, or long press of the button.
Umidigi Bison GT2 Pro 5G Camera and Resolution
The Umidigi Bison GT2 Pro 5G has three cameras. This comprise of a 64 megapixels wide angle lens with an f/1.8 aperture and and 81° FOV, a 5 megapixels macro camera with f/2.2 aperture and 88° FOV, and an 8 megapixels ultrawide camera with a 117° field of view and f/2.2 aperture.
The camera can capture 4K video in addition to panorama shots, face recognition, and HDR.
There is also a 24 megapixel AI-enhanced camera with an f/2.0 aperture for photos and Face Unlock.
Umidigi Bison GT2 Pro 5G Software, Memory and Battery
The Mediatek Dimensity 900 (6nm) Octa-Core processor powers the Umidigi Bison GT2 Pro 5G. This is a more powerful and efficient processor than what we saw in the Umidigi Bison GT2 and Bison GT2 Pro, and it makes a significant difference in speed.
The chip has a dual-cluster design with a dual-core Cortex-A78 processor clocked at 2.4GHz and a hexa-core Cortex-A55 processor clocked at 2.0GHz.
The processor is paired with an 8GB LPDDR4X RAM for smooth multitasking and gameplay efficiency. When you combine that with the impressive 6150 mAh battery, you have a smartphone that can hold its own no matter what you hurl at it.
The Umidigi Bison Smartphone comes equipped with tools such as a high precision Bosch Altimeter and Barometer, as well as other helpful tools such as a Compass, Pedometer, Magnifier, Plumb bob, Protractor, Noise Test, Gradienter, and others for your active outdoor lifestyle.
To keep things cool, the smartphone also has a liquid cooling mechanism. Overall, it appears that you have all of the components for one of the best gaming phones baked into this device.
Umidigi Bison GT2 Pro 5G ships with Android 11 or Android 12. If your device supports Android 11, Android 12 will be accessible via OTA.
You also get 256GB of built-in storage as well as a hybrid card for additional storage. An infrared temperature as well as a barometer and altimeter are built-in on the phone.
Umidigi Bison GT2 Pro 5G Price In Nigeria
The Umidigi Bison GT2 Pro 5G costs around $349.99 at major online retailers such as Alibaba. In Nigeria, the Bison GT2 Pro 5G is anticipated to cost around 199,900 Naira, 3,799 GHC in Ghana, and 58,900 KES in Kenya.
The Android phone is now accessible for purchase on major retail sites such as AliExpress and Jumia. It was released in December of 2021.