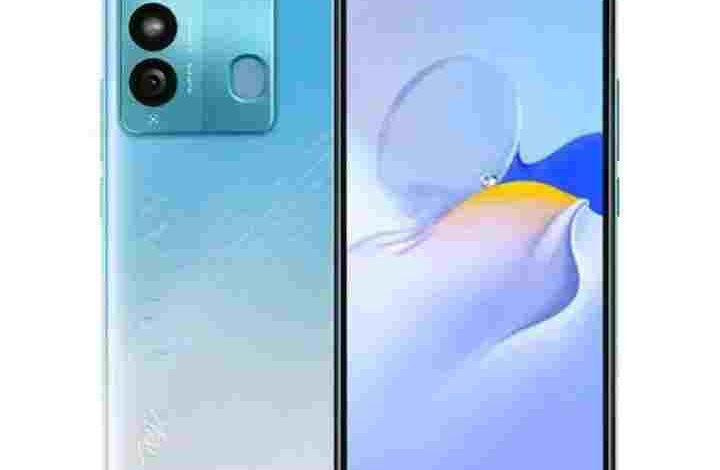 The Itel P38 is the P37's replacement. This Itel phone has a slightly larger display than the P37 and rapid charging. It provides 3G internet but does not support 4G LTE, just like the P37. Consider the Itel P38 Pro if you want 4G support. The 6.6-inch Itel P38 has a dual 8MP rear camera, a 5000 mAh battery, and rapid charging capability.
Design and Display
The plastic body of the Itel P38 has a fairly slim profile. It is available in striking hues like Nebula Black, Spruce Green, and Galaxy Blue.
The front of the device has a 6.6-inch display with 720 x 1612 pixel resolution and a V-cutout for the 5 megapixel camera. Face unlock is also supported via the front camera.
On the rear of the phone, a fingerprint sensor is installed for added security when locking and unlocking the device.
Three vertically arranged rings are included on the back, two of which house the dual camera and the other the LED flash. An 8 megapixel lens and a QVGA bokeh AI sensor make up the rear camera. Both cameras can capture HD films in 720p.
Price Of Itel P38 In Nigeria
The Itel P38 starts at roughly 74,000 Naira in Nigeria. In Kenya, the Itel P38 costs approximately 10,600 KES, in Egypt, 2,650 EGP, and in Ghana, 1,100 GHC.
In May 2022, the P38 was introduced and made avalible for purchase.
Software Version
A basic smartphone with entry-level performance is the Itel P38. The UniSoC Spreadtrum SC7731E chipset used in the P37 is still present. The Tecno Pop 6 Go and the pair of Itel A58 and A58 Pro smartphones both use the same processor.
The chipset has a quad-core processor with a 1.3GHz clock speed. It is run on Android 11. (Go Edition). The low-cost Android phone has 32GB of internal storage and 2GB of RAM. A memory card slot allows you to add up to 64GB of additional storage.
A 5000 mAh battery powers the Itel P38. With up to 26 hours of talk time and up to 10 hours of video playback, the battery endurance is adequate. The smartphone has quick charging compared to its predecessor.
Connection
The Android phone includes two SIM card slots, each of which supports 3G. If you want 4G connectivity yet this device does not support 4G LTE, consider the Itel P38 Pro. Micro USB, Bluetooth, and FM radio are all supported by the smartphone. A fingerprint scanner located on the rear will also be provided.